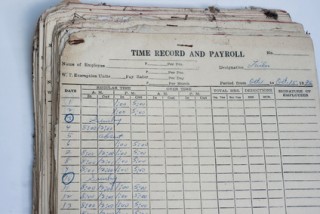 When most people think of their payroll system, they view it as a means to an end – pay their employees.  However if you learn about the technology you have, it can help you in many more ways, especially in creating efficiency.
Not all systems are created equal or with the same features, here are a few you should be interested in.
Employee Portal. This is an area of the system where employees can log in directly to view their information. It is also where they can view and download company documents. Imagine no longer having pay stubs to give employees, if they want the details they can log in and see what they were paid and when. If they want a paper copy, they can print it themselves.  They will also be able to change their address and tax withholdings. Imagine not tracking those papers anymore. They will also be able to review the employee handbook, download vacation requests or any other forms they need. This will reduce the amount of paperwork you need to track. Did you just smile really big?
Time and Attendance. This is one of my favorites and can be for you as well – if you are tired of calculating hours, breaks, etc. to determine a persons pay.  An electronic system allows employees to "clock-in" through the computer or a time clock connected to the computer. It will also track vacation taken, vacation requested and sick time. Essentially (yes there are a few steps in between) at the end of the pay period the data is transferred over to payroll with a click of the button. Having tabulated too many time cards in my career, I consider this a must have.
Performance Reviews. Yes, I know if you have been reading my writings know that I don't care for Performance Reviews. I still don't.  This is a title used in payroll systems and it can be used to track "career discussions", "check-ins", or any other kind of discussion with employees.  For more on these types of discussions, read this.  If you ask your employees regular questions every month or quarter or once a year – they can be added to the system and system will remind the employee and the supervisor it needs to be completed.  If you prefer to have discussions before inputting into the computer, this works to – the manager will need to enter the notes and the employee can approve. Again, less papers to track.
The use of technology to simplify and take over some tasks is very helpful. This alone can make you more productive and focus on what you really need to get done.
Need help in setting these up? Want to explore other ways to better use your payroll system? Please get in touch, we will be happy to discuss it with you.