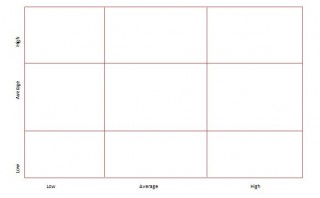 Talent Awareness is what I call it. Others call it Talent Management, I actually find it a little amusing, mostly because if you try to manage talent (your people) it doesn't work. They need to be led to willingly follow your path. However, that is not what this is about. It's about creating your awareness of the talent that lies in the people who work for you.
A way that companies are doing this is called a 9 Grid.  It is a graph to help you plot your people on.  (See above) What makes this different than forced (or unforced) ranking systems is that you are not comparing one person to another. It is about what they do and what they can do.
Along the bottom of the graph is Performance from low to average to high.  Going up the left side is Potential, again from low to average to high. This will give you 9 blocks (hence the name 9 grid).
Now take a look at each person individually and plot them along the graph. What gets tricky is making sure you don't change your definition of each criteria based on your own personal bias for each person. If you do this in a group, ensure one person's view doesn't adjust all the others. You have to remain objective. (I know…easier said than done).
Just to add another perspective, on the people who you are rating "low" on the performance, take a look at the why it might be happening.  Is it because they are new? Are they in a new role? Are they in the wrong role? Issues at home? Issues with their co-workers?  You get the idea – don't just label them "low" without understanding the why.
So why is this important? You can use this information to help you plan for staffing moves, determine which direction you want to motivate them, can they help train others, have they out-grown your company, do they need a challenge?  Again, review the information and the people and use this new insight to help lead and guide them for the success of your company.
Need some assistance to implement in your business? Please respond below and I will be in touch.