What Can I Do For You? This is a very honest question. I want to help you grow your business through your people. My goal is for small companies to thrive because and with of their people.
It pains me every time I read or hear about a small business that is fined by government, frustrated with their people or closes the doors as they lost their love for the business. I may not be able to help in every way possible, where I can make an impact is in the people-side of business.
The people-side of business is commonly referred to Human Resources and it entails many aspects.  Here's a quick diagram.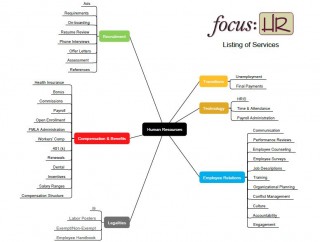 I know it's a lot to read and it is a little difficult to read, if you want the full page version – Focus HR Services Map.
Where I really like to start with clients is a "People Process Analysis" – This was developed to provide insight and a roadmap to a successful business through and with your people.  Covering four main areas to ensure you are doing the best for your business, you and your people. The areas covered are – understanding your business, review of employee documents, an operational assessment (people practices) and your culture.
Could you or another small business owner benefit from this? I would say "yes", in participating in this process (and the follow up report) you will get a clear understanding of what is working, what needs to improved and what needs to change. The end result? Your peace of mind, you knowing what you are doing is right and a plan to increase employee engagement.
Will you let me help you? Call me 773.531.8199 or email me andrea@focushr.biz to learn more.