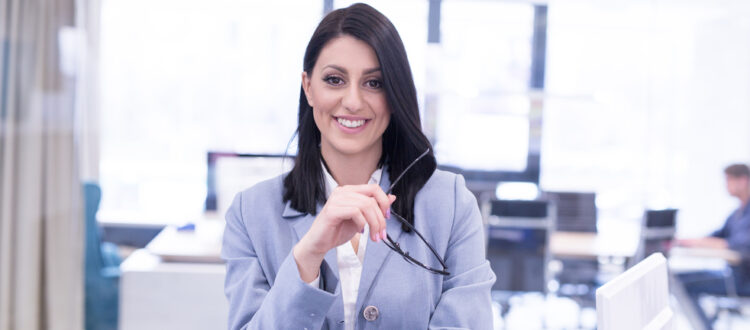 What Does a Positive Work Environment Really Look Like?
When was the last time you considered what type of work environment you offer your employees?
Today, employees want to go home without taking work-related stress with them. Creating a positive work environment not only benefits your employees but can also improve productivity and reduce employee turnover. 
The question is, what does a positive work environment really look like? Today, we discuss common concepts that create a more positive work environment.
Develop a Feeling of Trust
It's quite evident to employees when they don't feel trusted by their managers.
This is detrimental to a company's culture. When you create a feeling of trust, everyone feels safe. Trust is developed when employees are treated equitably and can voice ideas or concerns without fear of repercussion. Encouraging employees to share ideas, opinions and solutions creates a safe feeling where judgment isn't a concern.
Focus on Meeting Shared Goals
Meeting shared goals is all about cooperation.
When people feel they are working together, they enjoy a feeling of equality where their contributions are valued. It opens the doors for improved communication as everyone contributes purposeful work to achieve the same goals.
Cooperative environments define values and make every effort to be inclusive. Goals are defined, and rewards are offered as team members help achieve those goals. Your company fosters more collaboration to reduce conflict and open the channels of communication among coworkers, management, and departments.
Foster Positive Behaviors
Fostering positive behaviors allows for a positive work environment.
However, this is easier said than done. Business managers and business owners have to model positive, respectful behavior across all interactions, including customers, employees, suppliers, third-party services, etc. They also have to take responsibility for their actions and conduct themselves in an honest way.
Mistakes should be tolerated with a focus on moving forward. The old adage, "Fix the problem, not the blame," helps encourage honesty and accountability when errors are made.
A commitment to rewarding excellence and showing gratitude for a job well done also sets a more positive tone between management and workers. You should celebrate wins together, even for personal things, such as birthdays or work-related milestones like five years of service.
This improves morale and shows team members they should support their coworkers.
Transparency in Communication
Keeping employees in the loop on what is happening with the company builds on trust..
Ongoing feedback on performance also helps employees improve their skills and understand expectations. Setting and supporting career goals with reviews, training, and mentoring helps employees see a bright future with the company. This also allows employees to leverage their skills to problem-solve, improve productivity, and expand their opportunities for advancement.
Positive behaviors from the top down encourage positive behaviors throughout the workplace. Creating a feeling of trust and cooperation goes a long way in creating a positive environment where employees feel safe and appreciated.
About Focus HR, Inc.
Focus HR, Inc. uncomplicates the people side of business by providing small business owners with outsourced HR, project HR, and Leadership Coaching. For more information, please contact us today! If you liked this post, please subscribe to our blog. You can opt out at any time. To learn more about FocusHR and for updates, please like our Facebook page and follow us on LinkedIn.