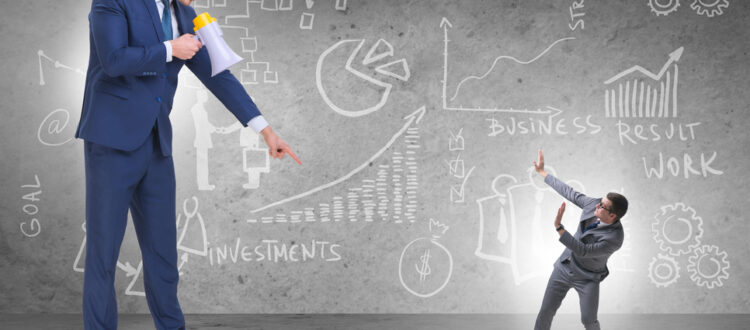 5 Ways Managers Cause Low Employee Engagement
Employee engagement is an integral part of any business because it can lead to increased productivity, higher retention rates, improved customer satisfaction, and better teamwork and collaboration, among other reasons. 
It involves the feelings and relationships employees create between themselves and their role in the workplace. It also reflects employee feelings toward the brand and management.
While there are many potential reasons for low employee engagement at work, managers play a big role. From the responsibilities managers bestow on employees to the feedback they offer, there's a lot of potential to impact employee moods.
Pinpointing the cause of low employee engagement isn't always easy, but in today's blog post, we present 5 of the things that could be affecting your employee/management relationships.
1. Only Negative Feedback
Employees need constructive criticism to grow.
They also need to feel valued. Receiving only negative feedback for work completed casts doubt into the mind of employees. It may make them feel undervalued or like they're not "cut out" for the role they've been assigned.
While it's crucial to be honest with feedback, you catch more flies with honey than vinegar. Sprinkle on some of the positive components of your employee's performance before going over the negative.
2. Asking Employees to Go Above and Beyond
The expectations of a position should be straightforward.
While there's always room to grow, job responsibilities should be outlined by business owners and followed. Any changes or evolutions to a role should be brought to employees ahead of time and accompanied by training to streamline the transition.
Asking employees to take on work above and beyond consistently what's required can become tiresome. Employees experiencing burnout have a high chance of low employee engagement. If extra work is needed, offer it as an optional assignment.
3. Observations of Favoritism
Favoritism is dangerous, even if it's not really happening.
An employee who feels there is favoritism in the workplace is more likely to experience negative feelings toward management and the organization.
Striving for fair treatment is a good way to beat any miscommunications or favoritism among staff members.
4. Overworking
Are your employees always looking tired?
Ensuring there are enough breaks during the day is a useful way of breaking up workloads. Overworked staff is more likely to feel disengaged from work, colleagues, and management.
Work closely with employees to determine the right workload based on their role, experience, and ability—delegate tasks to other employees when necessary.
5. No Trust
Micromanagement is a problem in any business setting. 
Employees wind up feeling like there's a lack of trust between managers, business owners, and employees. This is where employee engagement can dip.
Rather than hovering over employees taking on new responsibilities, ensure those employees are properly trained and have support in place if they need them. Obtaining new responsibilities in the workplace (within the scope of their expertise) is a great way to build confidence and engagement.
About Focus HR, Inc.
Focus HR, Inc. uncomplicates the people side of business by providing small business owners with outsourced HR, project HR, and Leadership Coaching. For more information, please contact us today!
If you liked this post, please subscribe to our blog. You can opt-out at any time. To learn more about FocusHR and for updates, please like our Facebook page and follow us on LinkedIn.